Día nuevo, reseña nueva. En ésta ocasión os traigo (con bastante retraso, qué queréis, es la marca del blog) mi reseña sobre la segunda parte del Starcraft II, titulada Heart of the Swarm.
Vuelve uno de los reyes de la estrategia en tiempo real con una expansión un tanto controvertida, vale la pena?
Historia
: El juego nos pone en la piel de Kerrigan, posiblemente el personaje más interesante de la franquicia Starcraft, ese comando Ghost que fue asimilado por el enjambre Zerg y se convirtió en el mayor peligro para la humanidad.
Al empezar ésta nueva aventura y por razones que se conocen si se acaban la primera entrega de Starcraft II tenemos a una Kerrigan que ha vuelto en sí, siendo de nuevo bastante humana pero sin perder del todo los poderes que le permitían ser la reina Zerg conocida como Reina de Espadas.
Éste estar a caballo entre dos mundos será gran parte del ley motive de la trama, lo que unido a la venganza personal de la chica contra aquel que la traicionó en su momento, su amor por Jim Raynor y el hecho de ser la elegida: la única capaz de detener una inminente invasión por parte de una raza alienígena ancestral hacen de ésta una trama bastante rica.
Se nos cuenta todo mediante las misiones que vayamos desarrollando, avanzando mediante secuencias de video y momentos más relajados en una trama muy interesante que tendrá su culminación el día que salga la tercera y última entrega de Starcraft II.
Apartado Técnico
: Si habéis jugado a su anterior entrega no os encontraréis gran cosa, un par de efectos nuevos un poco de upgrade que ya se nos había dado mediante parches y unas cuantas unidades nuevas que lucen estupendamente en pantalla.
Estamos ante un juego que se ve la mar de bien, pero que lo hace gracias a un buen trabajo artístico más que a músculo gráfico, ya que está pensado para poder funcionar en cuantos más ordenadores mejor. Vistoso pero lejos de los títulos punteros del género (como la serie Total War).
En lo sonoro tenemos un buenísimo doblaje al castellano, una banda sonora épica y unos efectos muy cuidados, lo que dan como resultado un apartado realmente bueno y que nada tiene que envidiar a otras superproducciones de distintos medios audiovisuales.
Jugabilidad
: Si por algo destaca la franquicia Starcraft es por tener una jugabilidad excelentemente medida, el clásico easy to learn, hard to master.
Así, dominar los elementos básicos de construcción de bases y uso o mejor de tropas es muy sencillo, lo complicado está en hacerlo bien, lo que notaremos si entramos a jugar en la escena competitiva online o simplemente intentamos sacar todos los logros de la campaña.
Es de esos juegos que te empuja a seguir jugando porque ves que mejoras, con una mecánica muy simple (recolectar recursos, construir base, entrenar y mejorar unidades, usarlas sabiamente). Es una mecánica igualita (con algunos nuevos elementos) a la ya vista hace más de 10 años y que sigue funcionando igual de bien.
Eso sí, si no queréis meteros en la escena online y simplemente queréis disfrutar de la trama principal sin agobios podréis hacerlo gracias a los distintos niveles de dificultad y a la gran variedad de misiones que hay para esa campaña (que se salen del típico juego en online).
Una delicia, vamos.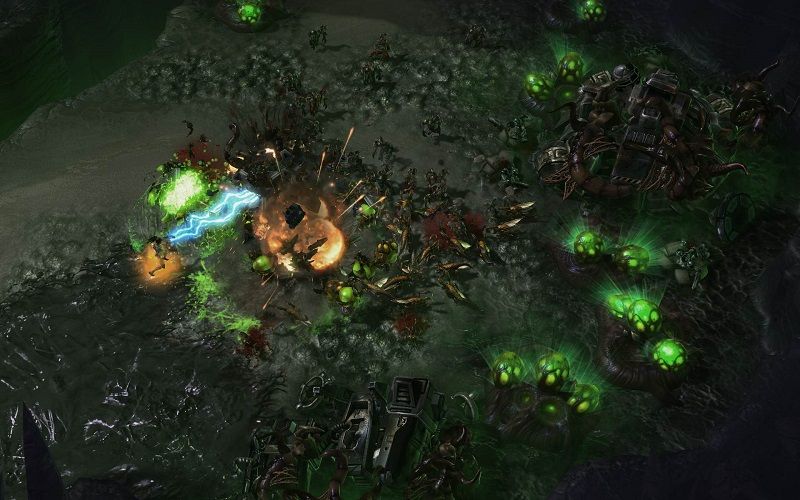 Opinión Personal:
Heart of the Swarm es un producto algo difícil de valorar, ya que sigue en la línea continuista de Starcraft II añadiendo una nueva campaña (larga y satisfactoria) y elementos nuevos para el online como son unidades que proporcionan nuevas formas de que te ganen.
Es precisamente esa continuidad lo que más le pesa y lo que ha hecho que la mayoría de webs especializadas le puntúen bastante por debajo que al Wings of Liberty. Y es que podría haber salido todo junto y no partir el juego en tres partes como finalmente se ha hecho.
Una vez superado el que te saquen el dinero tres veces por el mismo juego, lo que tenemos entre manos y hablando como producto independiente y sin tener en cuenta a su entrega anterior no es sino uno de los mejores juegos de la estrategia que han salido nunca.
Supongo que mi valoración está un poco sesgada porque juego muy poquito al modo online en cualquier juego, así que lo acostumbro a valorar por encima de todo es la experiencia de la campaña, y ésta es prácticamente igual de buena y con mayor variedad que la anterior.
Además, tiene una buena duración, más que suficiente para justificar su compra como producto independiente (aunque igual no para los del online).
Creo que Blizzard se equivocó al partir el juego en tres? Sí. Creo que merece una gran penalización por ello? No. Starcraft II: Heart of the Swarm es un juegazo como la copa de un pino y como tal he decidido valorarlo.
Valoración Personal: 9,8.
Valoración en Metacritic:
86.
Comprar