Uno de los grandes nombres en el mundo del RPG occidental ha sido sin duda Fallout, una saga que nos propone un mundo post apocalíptico y que se basa en sus grandes escenarios y libertad de acción. No es de extrañar entonces que la cuarta entrega numerada de la saga levantara cierta expectación, ni lo es tampoco que haya acabado pasando por mi PS4.
A ver qué es lo que trae éste Fallout.
Historia
: Todo empieza el día en que caen las bombas, allí huimos junto con nuestra familia a un refugio seguro donde somos puestos en hibernación.
Despertaremos doscientos años tras éste arranque tan potente, en ese momento veremos cómo unos desconocidos abren la cápsula donde descansan nuestra mujer e hijo, matando a la primera y llevándose al segundo. Un rato más tarde conseguimos salir de nuestra cápsula, emprendiendo una búsqueda de venganza a la par que intentamos recuperar a nuestro hijo.
La trama de búsqueda y venganza será el hilo conductor, pero nuestro personaje se encontrará con una zona devastada tras el bombardeo nuclear, un mundo que no reconoce y en el que tiene que adaptarse, haciendo alianzas con otra gente o facciones.
La gracia de la trama está en ir descubriendo el yermo, un lugar bastante grande que guarda multitud de secretos, así como encontrar las distintas facciones del juego y ver qué es lo que podemos (o no) hacer.
Lástima que la trama tenga un desarrollo taaaan lento, enseguida nos olvidaremos de ella y pasaremos a concentrarnos en tareas secundarias, que, por desgracia, tampoco tienen el nivel de enganche requerido (muy lejos de The Witcher 3, por ejemplo).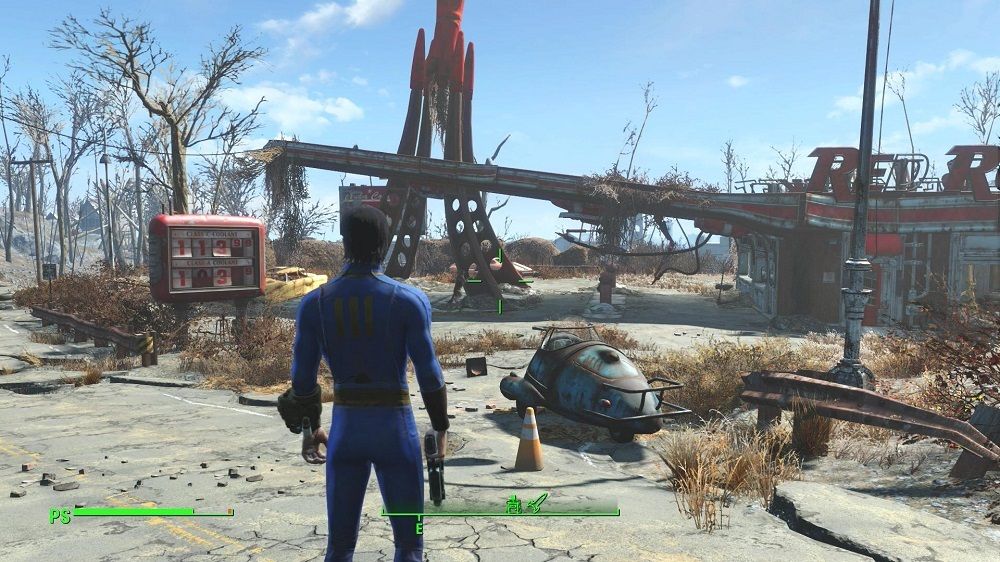 Apartado Técnico:
Bethesda nunca ha sido una compañía famosa por tener los motores gráficos a la última, de hecho, en Fallout 4 apenas se aprecia cierta evolución desde Skyrim, incluso se ve peor que dicho juego para Pc con todos los mods visuales. Esto no quiere decir que estemos ante un juego feo.
Tanto la ambientación (yermo, suciedad, etc…) como los personajes consiguen meternos en el escenario, teniendo un trabajo de mapeado muy bien pensado y con multitud de elementos que destacan sobre el resto por su buen diseño. Pero ni en lo artístico ni en lo puramente técnico el juego consigue destacar, quedando muy lejos de otros productos AAA (como el ya mencionado The Witcher 3).
Por suerte la amplitud de escenarios tanto interiores como exteriores hace que olvidemos ésta falta de ambición técnica, primando unos escasos tiempos de carga sobre el preciosismo visual.
En lo sonoro nada que destacar, unas pocas canciones puestas en distintas emisoras de radio que acabaremos por apagar por culpa de lo repetitivas que son.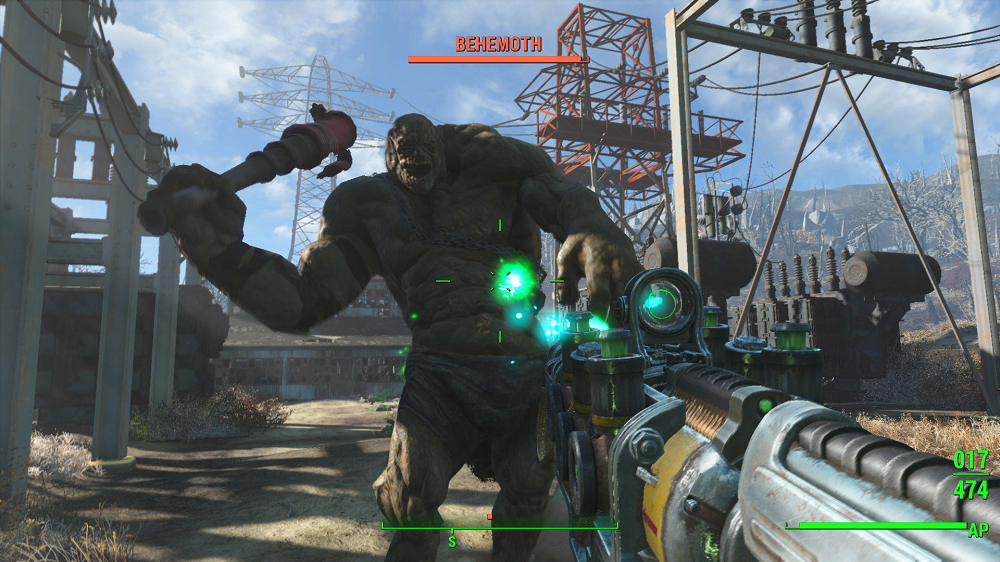 Jugabilidad
: Por suerte el juego destaca en lo jugable, aquí es donde Bethesda destaca, creando un mundo grande y abierto en el que podemos perdernos e ir descubriendo los múltiples secretos que encierra.
Fallout 4 tiene cierta predilección por los tiroteos, unos tiroteos que podemos hacer como en cualquier shooter o mediante el VATS: un sistema automático de puntería que podemos usar de forma limitada y que ayuda mucho a acabar con los enemigos.
Tenemos también posibilidades diplomáticas o de sigilo, así como cuerpo a cuerpo o a distancia. La aproximación al combate es tan variada como queramos, y constituye el principal punto fuerte del juego: acabar con los enemigos resulta divertido.
Como buen rpg que es, tendremos multitud de niveles para ir subiendo (podemos subir el personaje a tope en todas las características, aunque eso requerirá una ingente cantidad de horas) o coleccionables que encontrar. Pero es que además podemos crear nuestros propios asentamientos y hacerlos prosperar, o volvernos unos manitas y crearnos nuestras propias armas y armaduras.
El sistema de misiones está dividido en dos: las que forman parte de una trama interesante, o las que nos darán las facciones de forma reiterada. Las primeras pueden tener cierta variedad, mientras que las segundas (que son las que haremos más a menudo) acaban consistiendo únicamente en ir a un sitio, matar y volver, con el agravante que los sitios acaban por repetirse, haciendo la experiencia algo cansino.
Podríamos decir que en un principio tenemos un juego que abruma por su tamaño, luego te acostumbras y acabas harto de repetir, pensando que bien podrían haberte obligado a investigar todo el mapeado en lugar de enviarte siempre a los mismos sitios.
Pero bueno, resulta un juego divertido de jugar y en el que es fácil perder horas y horas de nuestro tiempo sin apenas darnos cuenta.
Opinión Personal
: Tras leer análisis y oír hablar de él en algunos podcast, tenía cierto miedo de acercarme a éste Fallout 4. A mí el que más me había gustado hasta el momento era el 3 (tengo el New Vegas pendiente), y parecía que esto venía a ser más de lo mismo pero con un mejor acabado y poco más.
Y eso es lo que me he acabado encontrando. Porque Fallout 4 podría haber sido perfectamente una expansión del 3 añadiendo el tema de crear asentamientos y una zona nueva. No se respira en ningún momento la sensación de estar ante un salto de una fórmula conocida, más bien estamos ante un refrito de algo que funcionaba y que sigue funcionando.
Estamos ante un buen juego, de esos que dan para decenas de horas, incluso cientos si lo queréis es acabar viéndolo absolutamente todo (aunque el platino se consigue en unas 60), pero al que le falta una trama que lo cohesione un poco mejor todo, o darnos la sensación de que nuestras decisiones afectan al resultado final más allá de una concreta hacia el final de la aventura.
Creo que en Bethesda han optado por ir a lo seguro, cogiendo lo que funcionaba y poniéndolo más bonito, algo que con un juego tan bueno como Fallout 3 puede darse por válido pero que acaba por saber a poco, incluso diría que me ha enganchado menos ésta cuarta entrega que la tercera, precisamente por esa sensación de no pintar demasiado en lo que va sucediendo.
Es innegable que si os compráis Fallout 4 os lo pasaréis bien, tenéis un mundo muy grande por explorar, algunas secundarios interesantes y un tramo final muy chulo dependiendo de a qué facción decidáis apoyar, pero estoy convencido que también acabaréis con esa sensación de oportunidad perdida por no querer arriesgar un poco más, de pensar que éste Fallout queda lejos de lo que supuso su tercera entrega, o el mismo Skyrim (con el que guarda muchas similitudes).
Lo recomiendo? Sí, es un buen juego. Pero no es la obra maestra que podía haber sido.
Valoración Personal: 8,1.
Valoración en Metacritic: 87
.
Comprar Fallout 4