Los habituales ya sabréis que me gustan los juegos de rol online, a los que llevo jugando más de una década, desde los tiempos del Everquest. Desde entonces siempre he tenido alguno del género instalado en el ordenador, y con el cansancio ya de World of Warcraft, probé el que hoy nos ocupa.
Historia:
Amplia, muy amplia
Posiblemente estemos ante el elemento diferenciador de éste juego respecto a lo que era habitual hasta el momento en que salió. Primero porque se basa en un universo conocido, con elementos que ya forman parte de nuestra cultura popular: Star Wars.
Pero sobre todo, porque lejos de conformarse con hacer un juego ambientado en las películas, tiraron treinta mil años atrás, cuando la guerra entre el lado Sith y Jedi estaba en una especie de guerra fría, y ambos estaban en un punto álgido.
Pero llega un momento en el que empiezan las hostilidades, y allí es donde entramos nosotros. Ya queramos encarnar al lado oscuro o al luminoso, tendremos varias opciones de clase, que además de diferenciar la forma de jugar, tienen su propia historia.
Sí, cada clase de cada lado tiene una trama que puede llevarnos fácilmente más de cien horas completar, con viajes interestelares, relaciones personales, problemas en distintos planetas… y un crecimiento del personaje más allá del ir subiendo un nivel tras otro.
Un gustazo de trama, que se nos narra al estilo Bioware: con conversaciones con varias opciones, que pueden afectar al desarrollo de la aventura.
A veces se hecha un poco en falta que la calidad de las misiones secundarias sea más alta, pero se perdona en cuanto volvemos al hilo principal.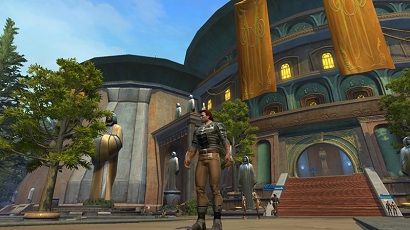 Apartado técnico:
Es un juego que podrá funcionar bastante bien en ordenadores de cualquier edad (el mío tiene más de cinco años y lo movía perfectamente). Esto quiere decir que tampoco esperéis que el juego esté a la última en lo que a efectos visuales se refiere.
Recreaciones de mundos conocidos o por conocer están muy bien, con ciudades, desiertos, tundras heladas, montañas, volcanes, selvas… todo lo que podáis imaginar. Con un entorno que entra por los ojos gracias al buen trabajo artístico.
Es un juego bonito de ver, sobre todo cuando nuestro personaje empieza a liarse a tortas con los enemigos: explosiones, lásers, combates a espada… todo bien plasmado en pantalla.
Creo que es un juego que en éste aspecto tardará en quedar desfasado, y pese a ser continuista con lo que hemos visto en otros juegos (el Wow mismo) sabe encontrar su lugar al recrear bien el universo en el que está.
Se echa de menos, eso sí, que las zonas estén algo más pobladas de personajes no jugadores, o que éstos se muevan algo más, para darle más sensación de vida al conjunto.
De la banda sonora nada malo que decir, es Star Wars en estado puro! Un gustazo para los oídos, lo que unido al excepcional doblaje (al inglés) dan el que es, posiblemente, el mejor apartado sonoro que he podido escuchar en juego alguno.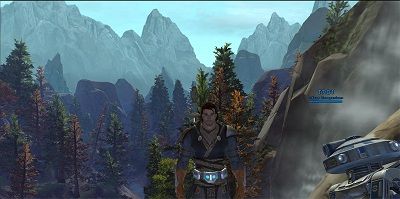 Jugabilidad:
Si habéis jugado a cualquier juego del género sabréis ante qué os vais a encontrar: una barra de habilidades (que crece con los niveles) y cuyo contenido depende de la clase y especialización que elijamos.
Así, no tendremos las mismas habilidades si somos un guardián Jedi que un contrabandista. Pero no os preocupéis, están bien balanceadas (siendo las mismas si elegís el mismo rol, ya sea bueno o malo).
Cuenta además con las típicas funciones si probáis las opciones de mazmorreo: configuración de tanque, healer y dps que tan buenos resultados ha dado a lo largo de la historia del género.
A lo largo de las horas que estéis en el juego, podréis optar por seguir con la trama e ir avanzando, crear objetos (sistema muy sencillo), hacer mazmorras o iros al jugador contra jugador. Lo típico, vamos.
Subir los ochenta niveles no se hace pesado para nada, pero una vez llegados al nivel máximo no tendréis el aliciente de seguir jugando, porque lo bueno del juego es la historia, y esa quedará acabada (a la espera de expansiones, supongo).
Comentar también, que tiene una especie de minijuego en la forma de misiones en las que pilotamos nuestra propia nave espacial, al más puro estilo shooter. Un nave que será nuestra case y donde nuestros compañeros vivirán (y harán tareas para nosotros, lo que no nos quita tiempo de juego para hacer según que cosas).
Un juego divertido de jugar, pero demasiado parecido en éste aspecto a otras propuestas (a casi todas). Supongo que pensarían: si algo funciona, para que cambiarlo.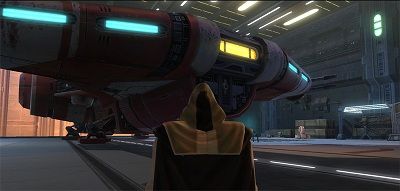 Opinión personal:
Star Wars, The Old Republic es un juego como la copa de un pino, pero debe entenderse más como experiencia individual que como juego de rol masivo.
Y digo esto porque la trama tiene tanto peso que estaremos jugando nosotros para ver cómo evoluciona, igual que si fuera un juego offline, pero con la diferencia que si se nos atasca alguna misión, o queremos irnos a una mazmorra, tendremos que buscar un grupo de gente que nos acompañe (lo que hace la experiencia más divertida).
Como puntos negativos, hay que destacar que está en perfecto inglés (no se han molestado ni en subtitular al castellano), que los servidores están bastante vacíos (he llegado a estar yo sólo en un planeta bastantes veces) y que cuando acabas la trama no te empuja a seguir jugando (esto último puede ser hasta positivo).
Pero aun así, si queréis empezar en el género con una propuesta clásica, os importan las tramas, os gusta Star Wars o simplemente tenéis curiosidad, estoy convencido que es una propuesta que os mantendrá enganchados durante varios meses, y eso, ahora que no tenéis que pagar cuotas mensuales por el juego, hace que valga la pena probarlo.
Vamos, que os lo recomiendo encarecidamente, una propuesta de éste estilo en free top lay y con un universo tan carismático no es fácil de encontrar, y es uno de esos juegos que vale la pena tener instalados, jugarse la trama y esperar a alguna expansión para retomarlo y volver con vuestro personaje.
Valoración Personal:
9,5.
Link a amazon