Para variar un poquito hoy os traigo otro videojuego, uno de esos que esperaba con ganas por venir de quién venía y que al ponerlo en la consola no me defraudó (pese a las múltiples críticas que he leído sobre él). Os estoy hablando de Beyond: Two Souls.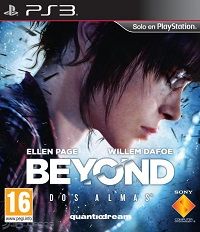 Historia
: Encarnamos a Jodie, una muchacha con una peculiaridad que la hace especial: es capaz de comunicarse con un ente sobrenatural que nadie más puede ver y que puede influenciar el mundo físico. Con ésta especie de espectro es capaz de hacer cosas que los demás no pueden, aunque también es verdad que ha tenido una vida que los demás no.
El juego básicamente nos va contando los momentos más destacables de la vida de Jodie, saltando sin aparente orden en el tiempo y mostrando tan pronto su entrada al FBI como las primeras pruebas que le hicieron cuando era una niña.
Así, nos encariñaremos con la chica e iremos conociendo poco a poco su historia y la del ser que la acompaña, a la par que algunos matices del mundo del que procede dicho ser y cuyo estudio ocupa gran parte de la trama final del juego.
Es una trama muy bien hilada, a modo de capítulos más o menos cortos y con la posibilidad de tomar algunas decisiones que afectarán en menor o mayor medida el resultado final de la partida. Pero lo que es sobre todas las demás cosas es la historia de Jodie y Aiden, una historia muy emotiva y que vale la pena jugar.
Apartado Técnico
: Parece mentira que éste juego corra sobre una PS3, a la que lleva al límite en muchas ocasiones.
Vale, en cierto modo hace trampa, ya que los escenarios en los que nos movemos están muy delimitados (a veces un par de habitaciones), y es por esa limitación en el tamaño (y en la interacción) que se han podido permitir recrearlos al milímetro y con una calidad envidiable.
A eso hay que sumarle un trabajo actoral muy bueno, llevado a cabo por actores de peso (Willen Dafoe hace su mejor papel en años) y recreado gracias a los avances de la técnica de Motion Capture de los últimos años.
Por si fuera poco tenemos también una banda sonora soberbia, a la altura de las mejores superproducciones Hollywoodienses, así como con un doblaje a la altura de los mejores.
Vamos, que es un juego puntero en éste apartado para la PS3.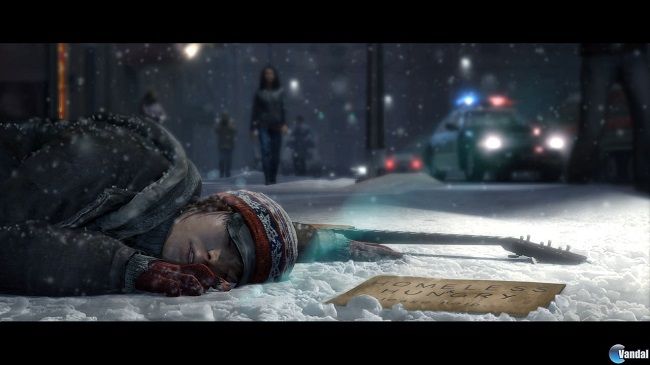 Jugabilidad
: Éste es el punto más controvertido de la aventura, ya que es una especie de aventura gráfica medio encubierta en la que la mayor parte de los momentos tensos los viviremos a modo de Quick Time Event (lo que permite mayor espectacularidad).
Es una jugabilidad bastante limitada, tanto por las opciones que se nos dan como por el tamaño de los escenarios en los que nos movemos. Y es precisamente gracias a éste simplificación (incluso se puede jugar haciendo que el juego pase automáticamente los momentos más complicados) que nos podemos centrar en disfrutar de su espectacularidad.
Algunos dirán que es un video en el que puedes incidir en algunas ocasiones. Algo muy exagerado ya que tenemos partes desde sigilo hasta acción, pasando por algunos puzles en los que controlamos a Aiden.
Tiene varias mecánicas interesantes, pero el juego tiene claro que lo primero es la historia y lo segundo la jugabilidad, con lo que a veces pecan de lo ya dicho: algo simples.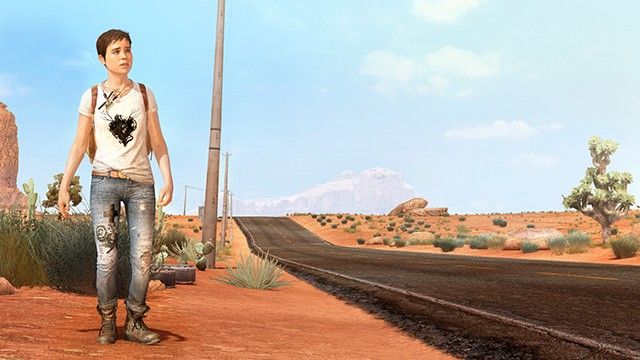 Opinión Personal
: Como veréis más abajo al comparar las notas de la crítica especializada estamos ante un juego que ha levantado bastante polémica, ya que o le ponen una nota bastante buena o directamente lo defenestran.
Pues bien, cuando os pongáis a jugarlo es posible que os pase lo mismo: os encanta o lo odiáis.
Personalmente me encantan las obras del estudio que ha hecho Beyond Two Souls, ya que es un estudio que pasa totalmente de las modas, se aleja de los juegos a lo Gears of War y plantea experiencias distintas, en ocasiones alejadas de lo que tenemos en la cabeza que debe ser un videojuego.
Y si esas experiencias te llegan, creo que son igual de lícitas como un Call of Duty o un Metal Gear Solid.
Estamos ante una historia muy bien llevada, con tintes sobrenaturales y que se centra en la figura de una mujer a la que veremos en múltiples momentos de su vida. Alguien acosado por algo que no ha elegido y que hará lo posible por seguir con vida.
Creo que con la historia y el apartado visual ya vale la pena acercarse a Beyond; pero es que encima a mí se me ha hecho divertido de jugar, con momentos tensos en los que realmente tenía la sensación de estar controlando lo que pasaba en pantalla.
Es verdad que si nos ponemos en fácil prácticamente sólo tendremos que mirar la pantalla y tomar ciertas decisiones; pero con jugar en normal ya estamos ante un juego entretenido a los mandos y con suficientes propuestas como para no aburrir en ningún momento a lo largo de la aventura.
En mi opinión es un juego que nadie que tenga una PS3 debería dejar pasar, una experiencia distinta (como lo fue en su momento Heavy Rain) y que se basa más en las emociones que en el espectáculo (que también lo hay) y que a poco que tengáis curiosidad no deberíais dejar pasar de ninguna de las maneras.
De mis juegos favoritos en ésta generación.
Valoración Personal: 9,8.