Probablemente el primer producto con el que me animé cuando Netflix entró en casa fue la película Beasts of no Nation. Primero porque me la recomendaba, y segundo porque salía Idris Elba.
De qué va? Beasts of no Nation es una película que nos cuenta la historia de Agu, un chico que vive con su familia en un pueblo cualquiera de África cuando un buen día la guerra llega a su aldea.
No diré qué sucede allí, pero el resultado es que Agu acaba vagando sólo por la jungla, donde le encuentra uno de los jefes de la guerrilla, que le proporciona un arma y le convierte en un niño soldado.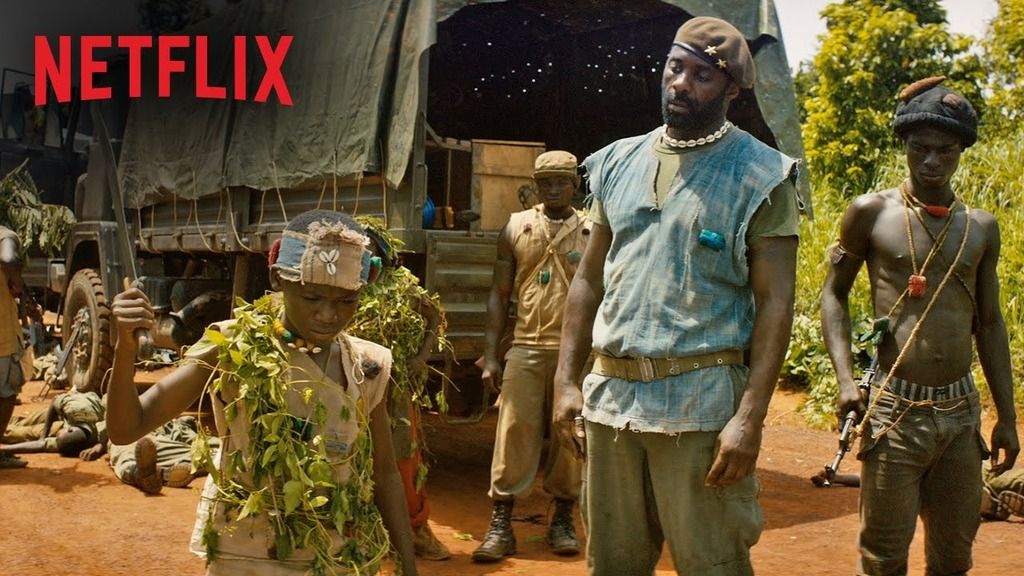 Y eso es lo que nos encontraremos, la historia de cómo un chaval cualquiera puede encontrarse siendo un soldado en una guerra que ni le va ni le viene y qué supone para su vida entrar en un conflicto armado.
Es una película muy dura de ver, no porque esté mal rodada, sino porque trata un tema bastante sensible y lo hace con toda la crudeza necesaria (nunca gratuita). Una de esas películas que te remueve las tripas tanto por lo que te cuenta como por alguna de las escenas que ves mientras te lo cuenta.
En lo formal tenemos una película muy bien rodada, a veces cercana a un falso documental pero sin descuidar nunca ni la fotografía ni la iluminación. Es de esas películas que entran por la retina gracias a sus colores, pero luego acaban en el estómago por su desarrollo.
Los actores están muy bien, aunque hay que reconocer que salvo el niño protagonista e Idris Elba ninguno de los demás personajes tiene un papel demasiado complicado (realmente parecen extras contratados allí mismo en la jungla). Pero éstos dos hacen un trabajo increíblemente convincente, el primero como niño que va evolucionando según transcurre la película y el segundo como caudillo de la guerra.
Parece mentira que tenga que ser un canal de video bajo demanda el que produzca ésta película, un auténtico peliculón que da en ocasiones la impresión más de documental que de película, tal es realismo que se alcanza en muchas de las escenas y personajes. Netflix se apunta un tanto con ésta producción propia de calidad, de esas que vale la pena ver y que van justificando una tras otra el pago de una cuota mensual.
Resumiendo. Una muy buena película de la mano de Netflix, que sirve tanto como buen producto cinematográfico como de película denuncia de una problemática que sigue muy vigente y contra la que se hace realmente poco.
Y repito que es una película no apta para todos los públicos, que uno cuando se acerca a ella debe estar preparado para que le den una patada en el estómago y para ver sufrir a niños; pero es lo que está sucediendo en la vida real, y ese es el problema que tan bien retrata Beasts of no Nation. Así que ya sabéis: si creéis que no es vuestro tema, no la veáis.
Valoración Personal: 9,0.