Un solo día de descanso me he dado para continuar con The Prince of Tennis, concretamente llegando ya al sexto tomo.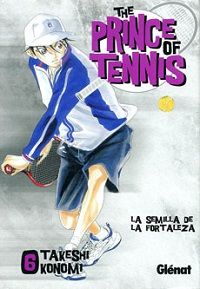 Y las cosas siguen avanzando sin pausa, de entrada paliza al chaval sobrado por el capitán, cosa que le mosquea y le empuja a mejorar cosa mala. Luego entrenamiento especializado y la escena del zumo que tanto me hizo reír en el anime XD.
Y luego empieza el primer torneo serio, donde aparte de machacar a los primeros rivales se va presentando al que se presupone será el primer rival serio del Seigaku: la academia donde va el hermano de Fuji.
Sigue teniendo todos los elementos que lo hace tan divertido, y lo que es mejor, no se entretiene en tonterías: va al lío una vez tras otra sin florituras extrañas, por eso mantiene tan bien el ritmo.