Si hay una compañía que sabe convertir en oro cualquier juego que produce, esa no es otra que Rockstar (bueno, y Blizzard) con productos anuales de distintas sagas (a las que no queman) que todo buen jugón tiene en sus estanterías.
Pues bien, el juego que hoy os traigo es el más conocido (y el mejor) de todos cuantos sacan, hoy os traigo Grand Theft Auto V.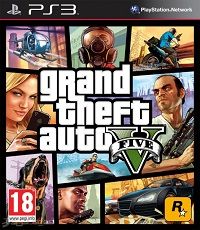 Historia:
Uno de los puntos del juego. En éste GTA V seguiremos a tres personajes protagonistas, cada uno con sus problemas y ambientación pero que se unen para preparar y ejecutar golpes para sacarse un dinero.
Los tres tienen motivaciones distintas, vidas distintas e incluso misiones propias.
Estamos ante una trama compleja, con traiciones entre ladrones, rencores del pasado, planificación y ejecución al más puro estilo Oceans Eleven, agentes del FBI, traficantes de droga… un poco de todo lo que puede tener el mundo del crimen.
Como de la trama general no quiero comentar demasiado, os explico un poco por encima la de los tres protagonistas y la otra la descubrís vosotros mismos, pero avanzo que vale mucho la pena.
Michael: Vendría a ser el padre de familia, un hombre preocupado por los suyos que hace muchos años entró en el programa de protección de testigos, y desde entonces ha vivido sin pegar un palo al agua, malcriando a sus hijos y distanciándose de su mujer.
Es un hombre muy temperamental, pero de apariencia tranquila (inspirado en Toni Soprano, sin lugar a dudas) al que le llega un momento en que quiere dar un último golpe, tanto para sentirse vivo como para salir de un embrollo en el que se encuentra.
Gran parte de su trama gira en torno a su mujer e hijos, así como con misiones muy divertidas con su psiquiatra.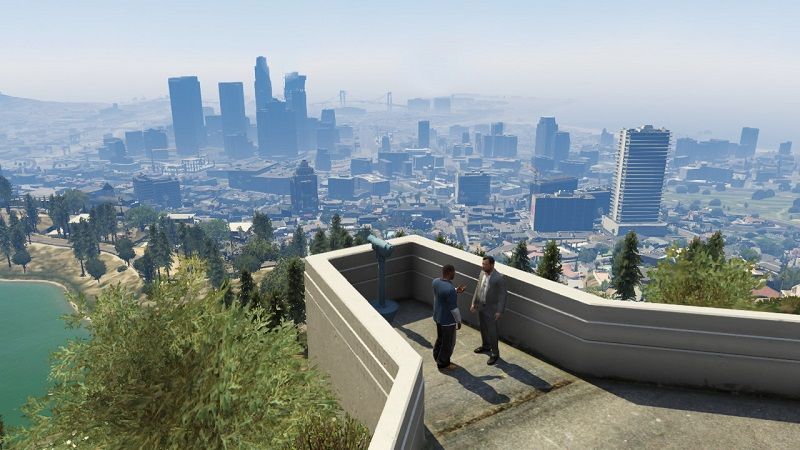 Trevor:
La auténtica estrella del juego, es un psicópata totalmente descontrolado que se dedica al tráfico de drogas en la zona desértica del estado. Antaño socio y amigo de Michael, le creía muerto, pero por circunstancias de la vida se entera de que sigue vivo.
Con Trevor no os aburriréis en ningún momento, desde misiones completamente colocado, asesinando bandas enteras de la competencia, pilotando aviones, cazando en el bosque… con éste loco asistiréis a las escenas más bizarras, divertidas y animales de todo el juego. Puro carisma descontrolado.
Franklin: Un joven de barrio, metido en trapicheos desde crío con un buen amigo pero que sueña con entrar en las grandes ligas, haciendo robos a lo grande y saliendo del barrio de mala muerte en el que vive.
Quizá es el personaje con menos carisma, pese a tener un amigo que es más una losa y ser el que más "progresa" de cuantos salen.
Apartado Técnico:
He tenido el gusto de jugarlo en PS3, y sinceramente no me explico cómo leches funciona el juego en esa consola.
Tenemos ante nosotros una ciudad (y una zona rural igual o más grande) totalmente abierta, con multitud de gente, la capacidad de volar sobre ella, de usar un submarino en sus mares… vamos, que estamos ante un mapeado ingente, de esos que estás un rato largo en coche para ir de una punta a la otra.
Y lo bueno es que todo se nos muestra con un gran nivel de detalle y una distancia de dibujado increíble (las vistas desde algún mirador son espectaculares), dando sensación de ciudad viva en todo momento, con sus coches y peatones haciendo sus cosas por la ciudad.
Como sandbox es el que más me gusta en lo visual, siendo bastante mejor que otros juegos que se limitan a mostrar pasillos predefinidos.
Todo muy sólido, sin ralentizaciones, con gran variedad de modelados en los personajes, decenas y decenas de vehículos distintos, edificios que no tiene nada que ver con multitud de detalles… una gozada, vamos.
En lo sonoro está la típica BSO de GTA, y qué es eso? Muchas horas de buena música por las radios de los vehículos, con temas de muchos géneros distintos (agrupados por emisoras).
Efectos sonoros y doblaje (en inglés) al nivel del resto.
Valdría la pena comprarse el juego sólo por el placer de pillarse un coche, poner la radio e irse a dar vueltas por el estado a ver qué encontramos.
En global tenemos un apartado técnico puntero, del que sólo puedo pensar qué leches harán en la nueva generación de consolas.
Tenemos decenas (si no cientos) de cosas que hacer, y es que la ciudad que se abre ante nosotros no es un simple mapeado para hacer las misiones principales. En ella veremos cómo varios ciudadanos nos piden que hagamos cosas, o simplemente podemos irnos a un club de striptease, trabajar de taxistas, jugar al tenis, jugar al golf, buscar tesoros, hacer carreras (que nada tienen que envidiar a juegos como need for speed) tanto en coche como en otros vehículos, tenemos el yoga, el tráfico de drogas, el robo de coches, la compra de negocios… y muchas cosas más.
Lógicamente, las mecánicas para hacer todas éstas cosas son bastante sencillas, siendo minijueos en muchos casos, o algo más profundo en otros.
Pasando a la parte que más tiempo nos ocupará, el control de los personajes es parecido a los shooter en tercera persona habituales, como Max Payne; apuntar, cubrirse, disparar, avanzar. Una mecánica que funciona y que va muy bien en las escenas de acción.
Como no podía ser de otro modo, el llevar a cada personaje distinto también se nota, ya que tienen una serie de habilidades (mejorables usándolas) que les harán idóneos para ciertas tareas; y es que no está en la misma forma Michael que Franklin.
Por si fuera poco cada uno de ellos tiene un poder especial de uso limitado, como son ralentizar el tiempo al conducir, el tiempo bala al disparar o el ser invulnerable durante unos segundos. Poderes muy útiles que hay que usar en el momento justo para poder avanzar.
Como he dicho hay muchas misiones disponibles, pero entre todas ellas destacan los grandes golpes, atracos que requerirán planificación y decisiones previas y que son un puro espectáculo en su ejecución (los hay realmente increíbles). En éstos golpes veremos los momentos más espectaculares del juego, que nada tiene que envidiar a producciones como Call of Duty y similares.
Así que queda claro que cada jugador podrá adaptar su ritmo al juego, haciendo las cosas que más le apetezcan, dejando las otras y volviendo a la trama principal (o las personales) cuando más le apetezca.
Menciono el modo online, en el que compartimos la ciudad con varias personas, pero como cuando lo probé estaba muy bugeado, reservo los comentarios para que me digáis qué os ha parecido a vosotros a día de hoy, que supongo lo habrán arreglado ya.
Opinión Personal:
GTA V es un juego como la copa de un pino, un estado abierto para que hagamos en él lo que nos venga en gana, con infinidad de opciones, una buena trama, buenos personajes y un entorno técnico a la altura de la propuesta jugable.
Si tenéis que elegir un solo juego con el que pasar días, semanas o meses, yo estaría entre éste y el Skyrim, decantándome por el segundo por su ambientación pero reconociendo que de forma objetiva el GTA V es un mejor juego.
Y ya, si os van las pelis de atracos, de la mafia o similares no podéis perdéroslo, aunque paséis de todo lo que ofrece os dará unas pocas decenas de horas para completar su estupenda trama principal.
Una trama principal, que, desgraciadamente (y por eso no le pongo un 10) queda algo diluida cuando empiezas a hacer otras cosas, estando ahí pero dedicándole menos tiempo que al resto del juego. Así, os recomiendo jugar el juego un par de veces: en la primera os pasáis del tirón la trama y la disfrutáis, mientras que en la segunda os entretenéis con cualquier cosa que os salga al paso.
Porque seamos sinceros, GTA V es grande por todo lo que da, por la suma de sus partes más que por cada una de ellas de forma individual. Una amalgama de juegos en un envoltorio muy bueno y unificados a la perfección.
Está muy bien que salgan juegos de éstos, a los que volver de vez en cuando para ver cosas nuevas (no te lo acabas nunca), a intentar sacar logros o trofeos, o simplemente a revisitar algunas de sus partes. Por suerte no salen muchos, porque me gusta intercalar éstas propuestas con otras más cortitas, por ir variando.
Resumiendo: si no lo tenéis ya tardáis. Y si cuando se publica esto ha salido una versión para consolas de nuevas generación, comprad esa, estamos ante un juego cuyo soporte se le queda pequeño (como The Last of Us).
Imprescindible.
Valoración Personal: 9,7.
Valoración Metacritic:
97.
Comprar